Key Numbers
The number of patent applications slightly declined while the numbers of requests for examination and registrations remain unchanged.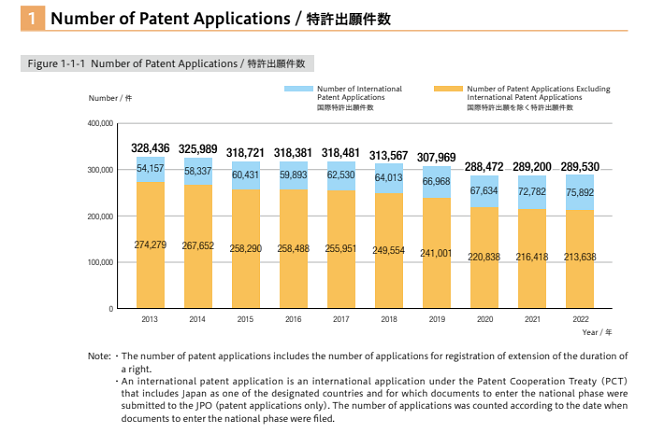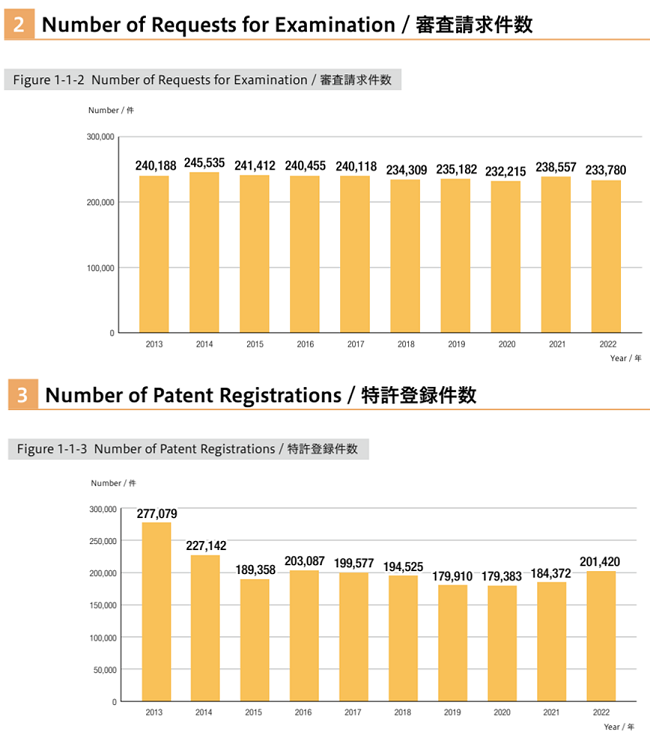 The number and ratio of patent applications from foreign countries are as follows.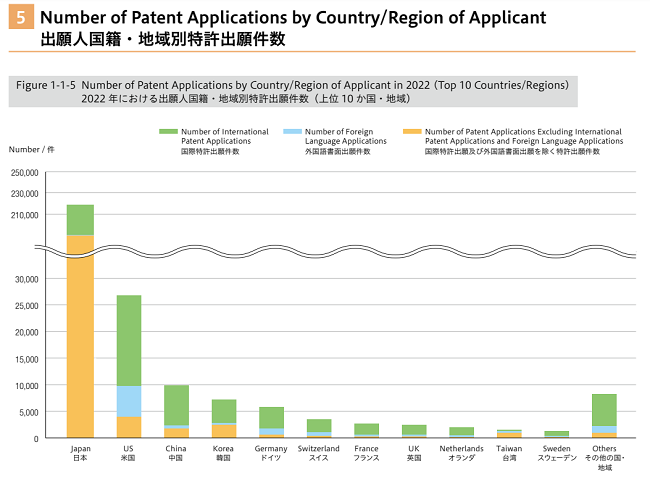 The number of requests for appeal against an Examiner's decision of refusal is 20% lower than a decade ago, but the success rate has been increasing annually by 24%.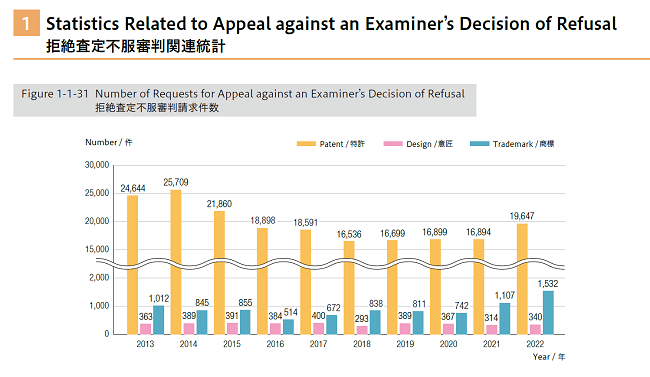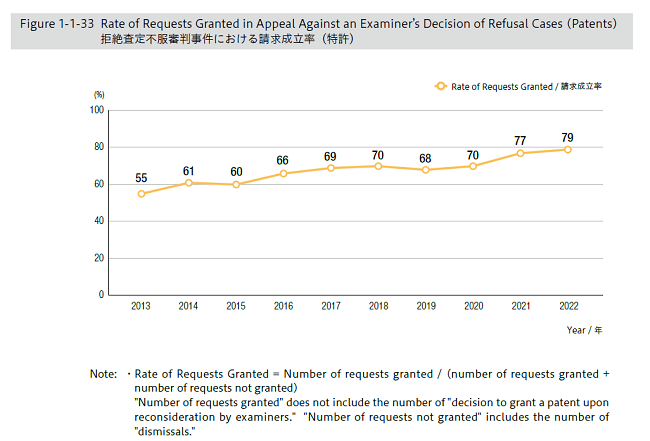 Top 10 Applicants with the Highest Number of Patent Registrations in 2022
LG Energy Solutions, the world's largest Korean-based battery manufacturer tops the table.  The number of registrations by the company in 2021 is not disclosed in the report, possibly because the company split from LG Chemical Energy Solutions in December 2020.
For Japanese companies, Toyota's growth is remarkable, way higher than Mitsubishi Electric and Canon, in second and third place.  Toyota has returned to the top position for the first time in seven years.  For Denso, a company derived from Toyota, in fourth place, the number of applications increased by nearly 1.5 times compared to the previous year.  While Honda's position has not changed much, the number of applications has also risen by about 750, reflecting the expansion of the automotive industry.  Daiichi Shokai, ranked 10th, is a pachinko -Japanese pinball- manufacturer based in Aichi Prefecture located in central Japan.  Panasonic, Mitsubishi Electric, Seiko Epson, and Huawei are also among the top applicants ranking for designs.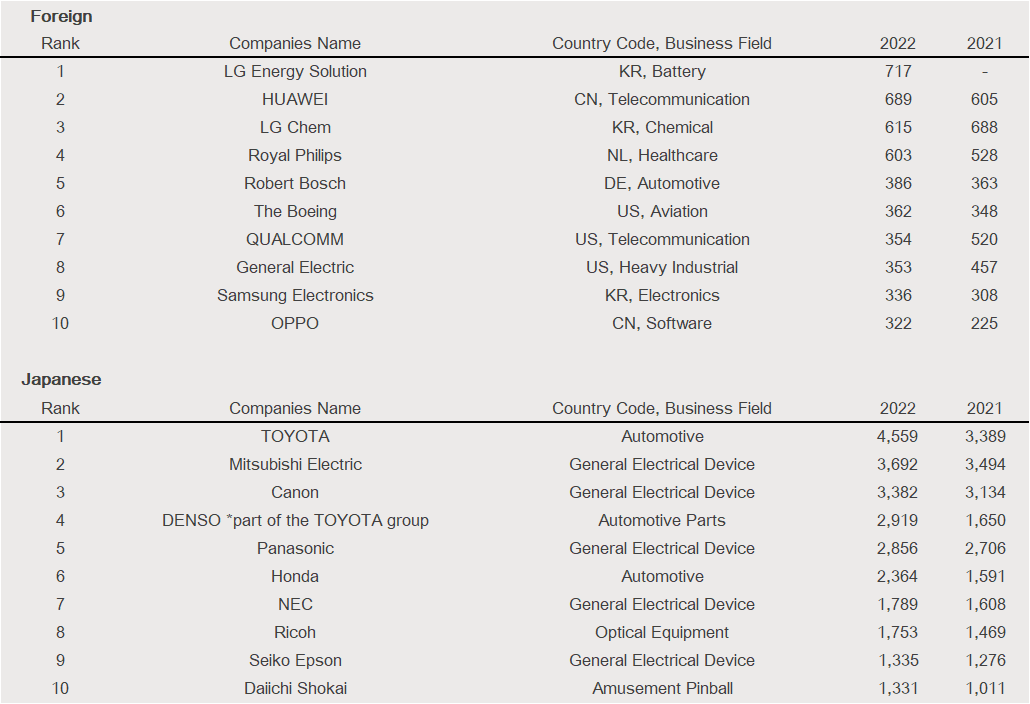 Accelerated Examination and Super-Accelerated Examination
Accelerated Examination
The number of requests has remained at approximately over 20,000.  The average time until the First OA from examination request was 2.3 months in 2022.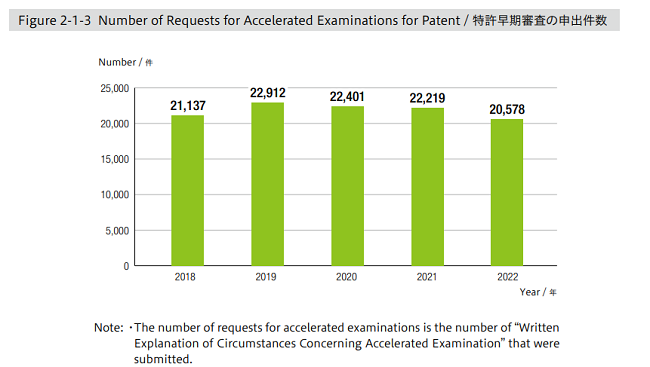 Super-Accelerated Examination
The number of requests was 1,241 in 2022.  In the principal procedures for Super-Accelerated Examination, the first OA is issued within one month from the request (within two months for the case of DO applications).  In 2022, the time until issuance of the first OA after request for examination was 0.6 months on average (1.4 months for DO applications).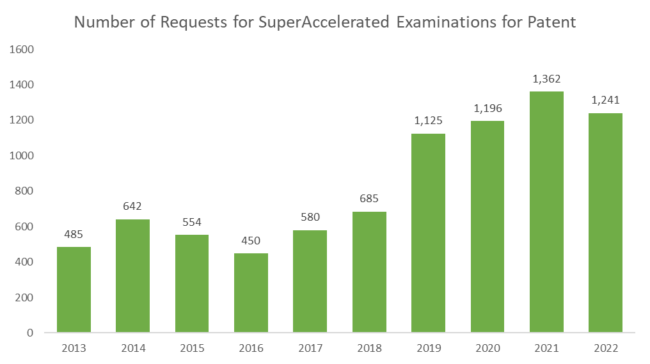 Reference: JPO Annual Report and JPO Status Report 2022.  Some figures include provisional values.